Visit the Riverhead Tavern web site
for more information on the restoration, menus options and more about New Zealand's oldest Riverside Tavern...
Want to know the marine weather forecast
before going out on the MV Kawau Isle?
Visit MetService and check out the current forecast for Auckland and the Hauraki Gulf.
Department of Conservation

The Department of Conservation is the central government organisation charged with conserving the natural and historic heritage of New Zealand on behalf of and for the benefit of present and future New Zealanders.
The site has excellent information about the Hauraki Gulf and the islands you'll find there. Click here for more.
Seabirds of the Hauraki Gulf
An excellent site that lists the bird species that can be found in the Hauraki Gulf, click here for more.
Maritime Archaelogical Association of New Zealand


New Zealand has a rich and varied Maritime Heritage, our ancestors both Polynesian and European relied on the ocean for transport, food, and trade. Indeed it did not stop there. Unfortunately in New Zealand much of the population is blissfully unaware not only of our Maritime Heritage but also its importance.
Visit this fascinating web site.
SeaPix Online

Great photographic web site of all types of marine images. You can even buy a picture of the MV Kawau Isle on there!
Forest and Bird
New Zealand's Leading Independent Conservation Organisation. One of our regular customers. Visit their web site and become a member!
Kawau Island
Learn more about the history of this beautiful and fascinating island that the MV Kawau Isle use to serve in its previous existence before becoming the Riverhead Ferry.
Arcturus - a classic yacht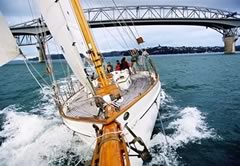 Read about this classic American schooner, berthed in Auckland's Viaduct Harbour, once owned by General George Patton, famed WW2 tank commander.

Boat Books Limited
Specialise in retail and trade sales of marine, technical and general interest books throughout New Zealand. Visit their web site.
Voyager New Zealand Maritime Museum

A rich collection of our nation's maritime treasures including Blue Water Black Magic exhibition, a tribute to Sir Peter Blake and New Zealand's extraordinary yachting success.
The New Zealand Railway Enthusiast Society


The premier railway preservation organisation - regular users of the Riverhead Ferry.